Alan Shearer !!! Ne, nije prvoaprilska šala, Alan Shearer je preuzeo kormilo Newcastle United-a do kraja sezone.Stidljivo se vest sinoć pojavila prvo medju narodom, medju gradjanima Newcastle-a, svi su i mislili da je prvoaprilska šala, ali je onda kao i daleke 1996. godine kada je Shearer i došao u Newcastle United, prvo na Sky Sports-u a zatim i na ostalim medijima, vest odjeknula poput atomske bombe !!!

Odmah ću svima i reći, zaboravite te priče i gluposti o neiskustvu.U ništa boljoj poziciji nije bio ni Sir Alex Ferguson daleke 1986, kada je preuzeo Manchester United.

U kasnim večernjim satima u sredu je na oficijalnom site-u javljeno da je klub napustio Dennis Wise, a nedugo zatim i zvanična vest , da je Alan Shearer novi manager.Kakav divan dan za sve navijače Newcastle United-a.
NUFC Statement - Alan Shearer :
"Newcastle United can confirm that Alan Shearer will return to the Club as manager for the final eight games of the season.

The Magpies' all-time record goalscorer takes charge of first team affairs at St. James' Park with immediate effect. Iain Dowie will assist Alan, with Chris Hughton and Colin Calderwood continuing in their coaching roles".
Četvrtak, divan sunčan dan u
Newcastle-
u,
Alan Sherer
je stigao na Darsley Park, gde je održao svoj prvi trening kao manager svog voljenog
Newcastle United
-a.Danas je održana i konferencija za štampu tačno u
2:30pm(GMT)
, gde su pored
Alan Shearer
-a bili još Iain Dowie i Derek Llambias.Mnogo jakih reči je izrečeno na toj konferenciji za štampu.Posle konferencije,
Shearer
izlazi ispred
St James' Park
-a, gde ga dočekuje nekoliko stotina navijača Newcastle-a u delirijumu, uz pesmu
Shearer's coming home
i
Shearer, Shearer!!!
Prvi test za Shearer-a je u subotu, kada na St James' Park dolazi ekipa sa šampionskim ambicijama, Chelsea.

Mi ćemo uvek biti uz tebe....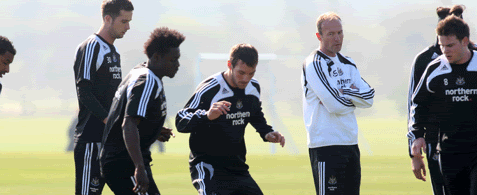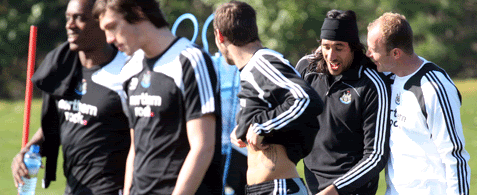 photo: nufc.co.uk