Sada već bivši manager sunderland-a Steve Bruce, dobio je otkaz u tom klubu.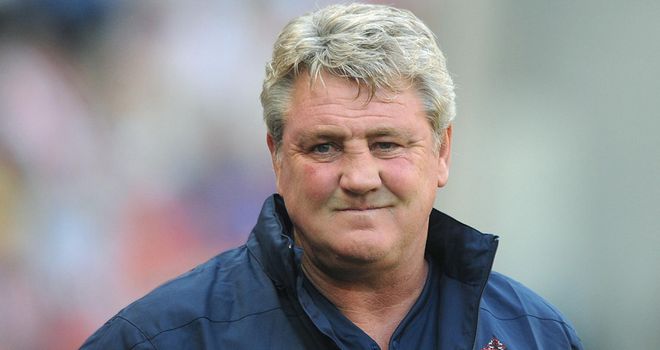 photo: skysports
from nufc.com:
Hugo Viana (translated):

"I was shocked, as were all who knew him. It was another great professional I worked with in Newcastle and a great person. It's a sad outcome."

Alan Shearer:

"Gary was a magnificent person, bright, fun and a wonderful family man - he lit up every room he walked into. I am proud to have been his friend and will miss him dreadfully."

Steve Harper:

"I am shocked and devastated at the news. Gary was a great friend, the ultimate professional and will be sorely missed by everyone. Our thoughts are with his family."

Robert Lee:

"He wasn't just a great player, he was a great person too. He was always great to be around, the life and soul of the party, and a good friend - it's a sad, sad day."

Steven Taylor:

"It is a sad, sad day. I played with him when I came through the ranks. He helped me through, he was an absolute machine - the best professional in football. He had that aura about him. He always had time for the young lads and helped them feel good about themselves."

John Carver:

"Gary was a very close friend and colleague of mine and I am absolutely shattered by the news, it is totally devastating.

"When I was coaching at Newcastle with Sir Bobby, Gary was as perfect a professional as you could ever wish to work with - 100 per cent committed, dedicated to his profession and, above all, a wonderful colleague and friend.

"I worked with him at Sheffield United too and of course was delighted to see the fantastic job he was doing with Wales.

"I am devastated by the news and I can only offer his family the most sincere of condolences at this tragic time. Gary was an exceptional person and a very dear friend. Football has lost a truly great man."

Kevin Gallacher:

"It's just a massive shock. I don't think anyone saw it coming, certainly I didn't, and people who worked with him on Football Focus said he was in good spirits.

"I played against Gary many times and I played with him for a couple of years at Newcastle. He was the sort of guy who would make you very welcome and help you out. He taught me how to play the guitar when I was there.

"I spoke to him a couple of months ago and whenever I saw him I would always ask him about his family. Obviously my thoughts go out to them now.

"He was just the ultimate professional and no-one ever had a bad word to say about him. As someone who was younger than me the news is a huge shock. I'm just trying to soak it in.

"He was a good friend who I'll sadly miss."

Andy Griffin:

"When people talk about him today, they are all saying what a good guy he was. He was obviously a great player, you don't achieve what he did without the exceptional professionalism he had. But more so, as a man he carried modesty around with him, he was very successful in his business.

"He was just a top bloke, it's as simple as that, and it's very, very, very sad. He's someone I always had the utmost respect for as a man, as a football player. Everyone had nothing but positive things to say about him, and rightly so."

NUFC:

"The board, manager, staff and players of Newcastle United FC are today deeply saddened to learn of the tragic death of Gary Speed.

"Gary was an inspirational and much-loved player at Newcastle United during his time with the club from 1998 to 2004, making 285 appearances and scoring 40 goals. He was an excellent servant to the club, the ultimate professional, and an exceptional role-model for younger players.

"Gary will be deeply missed by everyone at Newcastle United. Our condolences go out to his family at this very sad time."

Shola Ameobi:

"Gary was a really great guy who joined the club the year before I made my debut. I looked up to likes of Gary and Alan Shearer, and he was always there for me and the rest of the young lads, taking time to talk to us at training and pass on little tips that helped you improve as a player. Not everyone would do that so it just goes to show what a class act he was.

"He taught me so much, not just on the field, but how to handle yourself off the pitch too. I wish his family all the very best at this terribly sad time."

Alan Pardew:

"This is one of the saddest days in football, when we hear a colleague as respected as Gary is tragically no longer with us.

"A top class international player whose seamless move into national team management tells us everything you need to know about him. He had great class on and off the pitch, he was a man of true character that so many people looked up to.

"It is so sad and tonight my thoughts are of course with his family."

Nobby Solano:

"He was a special guy, I was very close to him. He was a pretty strong character in the dressing room, especially when you had a bad game – he would give you a lift.

"He was a second captain after Alan Shearer. He was a great professional, giving everything in training day by day. He was an excellent leader and an excellent team-mate. It's a sad day for football and especially for people who knew him.

"I remember when he was 34, 35, he was always training normally like a young lad - he always looked after himself."

Steve Howey:

"He's a man that will be hugely missed. I can't believe he's gone but I will never forget him. About two or three weeks ago I was with him and his son watching a game. He seemed fine and he was just cracking on."

Lee Clark:

"Whatever people's opinions are on how good he was as a footballer, he was an even better person. He was one of the best footballers I played against - a man that did everything to the best of his ability and would do anything to be the best.

"It is hard to put into words what he was like as a person - you couldn't compare him. He was the best."

Terry McDermott:

"He was one of the nice guys of football and as I don't know anyone who had a bad word to say about him. He was a gem person and a very, very good footballer. Away from football he was a wonderful family man - to lose him is unbelievable.

Steve Watson:

"I heard the tragic news on the coach down to Charlton yesterday and I felt completely numb. I immediately phoned my wife as we are very close to his family and have spent time away from the football field together.

"It is devastating news, Gary was an unbelievable football man whether he was playing, coaching or managing. He was completely dedicated and loved the game.

"Away from the field he was a great person and very much a family man. My thoughts, as are those of my family, are with his wife and his two children."

Michael Chopra:

"He was a brilliant professional and when I was at Newcastle he would always be available to help you out and offer you some advice if you needed it.

"You remember the little things and I knew that if I ever needed to speak to someone, Gary was always there for you. It was a really sad day to find out what had happened to him. He had a bright future as a manager. "

Lee Bowyer:

"He was such a professional and so many people looked up to him. For the time that I knew him, and I've met up with him since leaving Newcastle, he was always so kind and just a really nice person.

"You couldn't say a bad word against the guy, he was a true gentleman on and off the field and he's definitely going to be missed."

Carl Serrant:

"It was just a shock, a total shock. It is difficult to come to terms with. It seems so out-of-character for someone like that to do something like that. He was such a strong character, fun-loving and a leader.

"As a man and as a professional, he had every quality that you would want to be a top-level player and that is why he was the success that he was. He had a hell of a lot of talent, and he maximised it through his professionalism.

"He was the type of guy that you would want to be. He was full of stories, a funny guy and a leader of men. If you went out for a drink or were in a group, he would be the one leading the banter. He was a really intelligent guy, hard-working and always looking to improve himself.

"No-one ever spoke badly of Speedo - you couldn't. He was a strong-minded character, but spoke with a real level-headedness.... it is so sad, it's unbelievable."

Peter Ramage:

"I came up through the ranks at Newcastle and Speedo was a big character there. The young lads like me used to train with the senior pros quite often and Speedo was always the life and soul of the Club.

"He was a great bloke - one of a kind - and especially good with the younger lads like me at the time. He was always very supportive to us all. He would always encourage us. He was an absolute gentleman - on and off the park - and I still can't quite believe it.

"The way he conducted himself in any circumstance was unbelievable. He was a credit to himself, his family and the game in general. The world of football has lost one of the really good guys."

Kenny Dalglish:

"He was a smashing lad and was really well respected. We don't know the circumstances and there'll be a lot of people who are saddened at what's happened, but I think the most important people at this particular moment in time is his wife and kids – they must be absolutely devastated.

"It's a times like this that the football becomes a wee bit irrelevant. He was a very respected man in and around football."

Graeme Souness:

"You can call someone a great player if they've played for so long and won things. Some people are called great players after one season, but for me if you play for such a long time, it shows your character."

Sam Allardyce:

"I was fortunate to take Gary to Bolton. At that stage he was a young 34 and most people were saying he was getting past it, but in actual fact his stats were absolutely outstanding.

"As soon as he walked into the club he had an aura. He did everything to detail. When generally an old professional might moan and groan and say 'I don't want to do this' he just took it on board.

"I was also fortunate to get to know him as a person. He was an outstanding individual and this is what's devastating.

"His life was about standards, he had a high standard for everything that he did. To sum it up, if you had a daughter and she brought Gary Speed home you'd be delighted."

Mick Wadsworth:

"What can you say about Gary that hasn't already been said? I was fortunate to have worked with him. At that time, Sir Bobby gave me free licence to train the side when we were working to turn the club around.

"It was a difficult period for the club, but players like Gary Speed, Robert Lee, Alan Shearer, Shay Given, Steve Harper and Warren Barton, they were really important people in getting the club going again and Gary was a key member of that group.

"He was totally dependable, totally - his attitude to training, playing and learning and he also had a great will to win. He was the absolute model professional."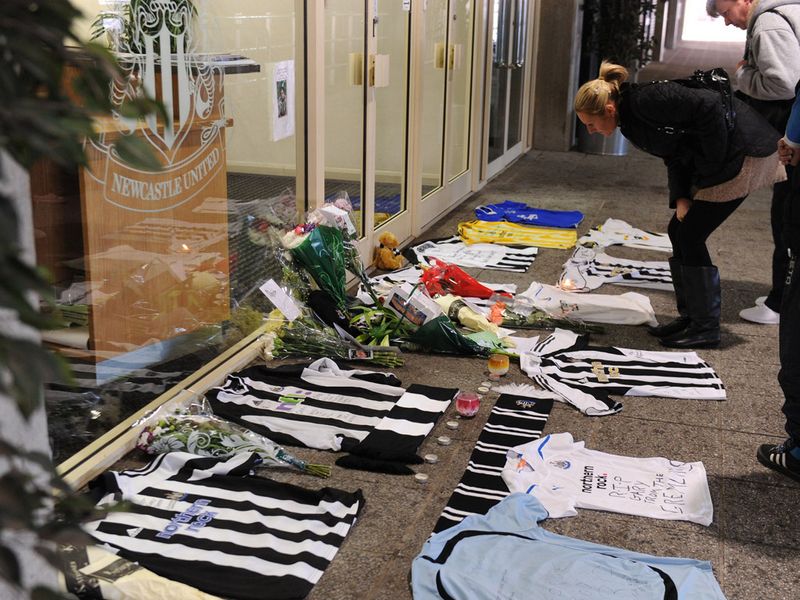 photo: skysports
GARY SPEED (1969 - 2011) - REST IN PEACE
Selektor reprezentacije Wales-a i bivši igrač Newcastle United-a Gary Speed izvršio je samoubistvo. Gary Speed imao je samo 42. godine.

Od februara 1998. do maja 2004. godine, za Newcastle United odigrao je 285 utakmica, postigavši okruglo 40 golova. Za crno-bele je igrao dva finala FA Cup-a i jedno polufinale FA Cup-a.

Iskreno saučešće porodici i prijateljima.


MANCHESTER UNITED - NEWCASTLE UNITED 1 : 1
U odličnom meču viđenom na Old Trafford-u, remizirali su Manchester United i Newcastle United rezultatom 1:1. Za Man United strelac je bio Javier Hernandez, dok je za Newcastle United, strelac bio Demba Ba.

Alan Pardew je na kišoviti Old Trafford izveo sledećih XI: Krul, Simpson, Steven Taylor, Coloccini, Ryan Taylor, Obertan, Cabaye, Guthrie, Gutierrez, Ben Arfa, Ba.

Newcastle United je dobro otvorio utakmicu. Ryan Taylor je imao vrlo dobru priliku, kada je na petercu, iskosa sa leve strane šutirao veoma traljavo u situaciji kada je mogao i morao bolje. Posle toga Ben Arfa divnom loptom pronalazi Ba, koji iz poluvoleja šutira preko gola.

Gabriel Obertan je imao možda i najboljih 45 minuta za Newcastle United, oprobao je svoj udarac sa distance, ali je lopta otišla visoko preko gola.

Tada Manchester United počinje da igra, stvarajući nekoliko vrlo dobrih prilika, pre svega preko Hernandez-a, koji je na našu sreću, bio veoma neprecizan. Giggs je takođe imao jednu vrlo dobru priliku za svoj tim, ali mu je Krul odbranio udarac.

Sredinom prvog poluvremena, sporečkali su se Rooney i Ben Arfa, jer je Rooney nogom zamahnuo ka Coloccini-u, dok je ovaj ležao na travi. To se nije svidelo Ben Arfa-i, koji je stao u odbranu svog kapitena, zbog čega je dobio i žuti karton. Jonas je od cele situacije odvukao Hatem-a, kako se situacija po njega ne bi pogoršala.


Poluvreme: 0 : 0


Međutim, Manchester United već posle četiri minuta igre u drugom poluvremenu dolazi do prednosti. Strelac je bio više nego srećni Javier Hernandez, kojeg je na petercu Newcastle-a loptom napucao Steven Taylor, posle čega se lopta odbila u praznu mrežu, za 1:0, minut 49.

Međutim, u 62. minutu, pomoćni sudija John Flynn je signalizirao glavnom sudiji meča Mike Jones-u, da je Rio Ferdinand u svom šesnaestercu faulirao Ben Arfa-u. TV snimak je jasno pokazao da je Ferdinand startovao na loptu i da je ovo bila sudijska greška. Međutim to nije zanimalo Demba Ba-u, koji je devetim golom izjednačio rezultat na 1:1, minut 64.
Treba napomenuti da je sedam-osam igrača Manchester-a konstantno vršilo pritisak da glavni sudija promeni odluku. Posle izvođenja jedanesterca, ponovo su igrači u crvenom okružili glavnog sudiju. U protestima je prednjačio Wayne Rooney.

U 78. minutu Jonas Gutierrez dobija drugi žuti karton i Newcastle United do kraja meča igra sa desetoricom.

Kako smo do kraja utakmice preživeli napade Manchester United-a, samo Bog zna. Krul je u nekoliko navrata fantastično reagovao, odbranivši udarce Viduću i Evra-i, dok je u Simpson u jednoj prilici izbacio loptu sa gol linije. Jednom se i stativa tresla posle udarca Ashley Young-a. U sudijskoj nadoknadi Hernandez postiže gol, ali mu ga pomoćni poništava zbog minimalnog offside-a.


Konačan rezultat: 1 : 1


NUFC: Krul, Simpson, Steven Taylor, Coloccini, Ryan Taylor, Obertan (Sammy Ameobi 65), Cabaye, Guthrie (Perch 74), Gutierrez, Ben Arfa (Lovenkrands 80), Ba.
Subs n/u: Elliot, Santon, Gosling, Shola Ameobi.

MUFC: De Gea, Fabio Da Silva (Smalling 90), Vidic, Ferdinand, Evra (Macheda 87), Nani, Carrick, Giggs, Young, Rooney, Hernandez.
Subs n/u: Lindegaard, Evans, Park, Valencia, Gibson.

Man of the Match: Tim Krul

Sudija: Mike Jones (penal zaista nije postojao, međutim, ako je Jonas isključen, nije mi jasno kako je Fabio ostao na terenu?)

Gledalaca: 75,594 (1800 Toon Army. Na tribinama i Alan Shearer).

P.S.
Veliki bod osvojen je na Old Trafford-u. Posle ovog kola, ostajemo četvrti na tabeli sa osvojenih 26 bodova. Sledeće subote u goste nam dolazi Chelsea. Nadamo se pobedi...
photo: The Sun
MANCHESTER CITY - NEWCASTLE UNITED 3 : 1
Uprkos prvom porazu, koji se dogodio tek u dvanaestom kolu Premier League, Newcastle United je ostavio pozitivan utisak na Etihad Stadium.

Veoma loših poslednjih četiri minuta prvog poluvremena, koštala su Newcastle United makar nerešenog rezultata.
Pre nego što je City načeo mrežu Newcastle-a, igralo se dosta mrno, bez puno prilika. City je stvorio dve, jednu preko Aguero-a, koji je sa distance oprobao udarac i drugu preko Balotelli-a, koji je glavom uputio udarac ka Krul-u a ovaj mu maestralno odbranio udarac.
Međutim, u 41. minutu, lopta posle udarca Yaya Toure-a u ruku pogađa Ryan Taylor-a koji se nalazio u svom petercu i sudija Chris Foy dosuđuje jedanesterac za City. Siguran izvođač sa bele tačke bio je Mario Balotelli, poslavši loptu u Krul-ov levi ugao, dok se golman Newcastle-a nije ni pomerio, za 1:0, minut 41.

Baš kada se činilo da će City na odmor otići sa minimalnom prednošću, Ryan Talyor greši u svom šesnaestercu, što koristi Micah Richard, koji udarcem sa desetak metara matira Krul-a za 2:0 minut 44.

Imao je Newcastle svoje prilike preko Demba Ba-e, ali je njegov vrlo dobar udarac odbranio City-ev čuvar mreže Joe Hart. Ta prilika se dogodila pri rezultatu 0:0 i ko zna šta bi bilo, da je Newcastle tada poveo?

Poluvreme: 2 : 0

U nastavku meča, Hamtem Ben Arfa je imao odličnu priliku, ali je posle udarac desnom nogom lopta odsela na stativi i odbila se u polje.

Coloccini je takođe imao priliku, kada je posle jednog kornera hvatao volej, ali lopta je otišla pored stative. Guthrie je imao jedan odličan prodor po levoj strani, kada je povratnom loptom pokušao da proigra jednog svog saigrača, ali je i ovoga puta Hart odlično reagovao.

Kraj balade dogodio se u 72. minutu, kada je Ben Arfa u svom šesnaetercu nespretno oborio Micah Richards-a, koji je pao, kao da ga je tenk udario od nazad a ne Hatem Ben Arfa.

Ovoga puta siguran sa bele tačke, bio je Sergiu Kun Aguero, koji je poslao loptu u jednu a Krul-a u drugu stranu, za 3:0, minut 72.

U 89. minutu, James Perch sjajno upošljava Ba-u, koji nije uspeo da savlada Joe Hart-a, ali u nastavku akcije, rezervista Dan Gosling sa tri metra ubacuje loptu u praznu mrežu, za konačnih 3:1, minut 89. Prvi gol Gosling-a u crno-belom dresu.
Konačan rezultat: 3 : 1


NUFC: Krul, Simpson, S.Taylor, Coloccini, R.Taylor, Sa.Ameobi (Gosling 79), Cabaye (Perch 85), Guthrie, Gutierrez, Ben Arfa (Lovenkrands 76), Ba.
Subs n/u: Elliot, Santon, Smith, Sh.Ameobi.

MCFC: Hart, Richards, Kompany, Lescott, Clichy, Milner, Nasri, De Jong, Y.Toure (Barry 84), Aguero (Johnson 76), Balotelli (Silva 69).
Subs n/u: Pantilimon, Kolarov, K.Toure, Dzeko.

Man of the Match: Micah Richards

Sudija: Chris Foy (jeftini penali dosuđeni za City)
Gledalaca: 47,408 (najveća poseta ikada na Etihad-u, uz 1700 Toon Army)

P.S.
Nije loše bilo. Jeftino smo poklonili pobedu City-u. Lepo je bilo videti da su se De Jong i Ben Arfa rukovali na početku meča. Posle ovog kola, Tottenham nas je pretekao na tabeli i mi smo skliznuli za jedno mesto. Trenutno smo četvrti. Zanimljivo je bilo videti i Steven Taylor-a, kojem je prokrvavio nos, pritom mu okrvavio i dres, pa je morao da obuče dres sa brojem 45 na leđima ali bez imena. Sledeći meč je u subotu, takođe u Manchester-u, ali na Old Trafford-u.
photo: imageshack.us