HAPPY BIRTHDAY ALAN SHEARER!!!
Danas 13.08.2017. godine, jedan i jedini Alan Shearer slavi svoj 47. rođendan.
Srećan ti rođendan Legendo!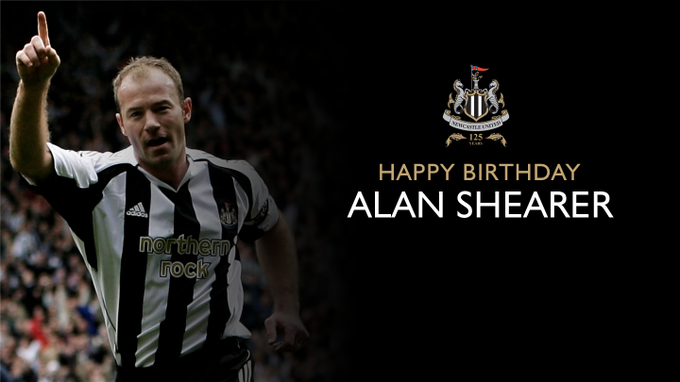 photo: nufc.co.uk
MIKE ASHLEY ZA SKY SPORTS:
"Every penny the club generates, he can have, but it won't generate enough," said Ashley.

"It's Newcastle United. It doesn't have a £40million-a-year stadium naming rights deal, it doesn't.

"So I don't want the fans to watch this interview and think 'that's great, Rafa's getting £150million in the morning'. He's not.

"With (United managing director) Lee Charnley's help – and Lee Charnley answers to Rafa, not the other way around, so we're crystal clear – Rafa makes all the final decisions on the players out and the players in, but he has to do it with the money the club has.

"If you say to me 'I'm wealthy'. Well, OK. In theory I'm a whatever, a billionaire, maybe even a multi-billionaire, but in reality my wealth is in Sports Direct shares, which, as I said the other week, are like wallpaper.

"I don't have that cash in the bank, so I don't have that ability to right a cheque for £200million.

"I don't have it. It's very simple, it's not there. I'd have to sell Sports Direct shares to fund that.

"So people outside of football looking in and the way sometimes it's portrayed, is that those sort of wealth terms are in the bank – they're not.

"I've got to make it crystal clear that I am nowhere near wealthy enough in football now to compete with the likes of Manchester City etc and not just Man City.

"Basically, it's a wealthy individual taking on what is the equivalent of countries. I cannot and I will not."
photo: skysports
Žreb je hteo da u drugoj rundi League Cup-a na St James' Park-u koplja ukrste Newcastle United i Nottingham Forest.
Druga runda League Cup-a, kojem je ove godine sponzor energetsko piće Carabao, počinje u ponedeljak 21. avgusta.
photo: efl
RAFAEL BENITEZ:
"The story is as I said before we missed some targets at the beginning (of pre-season) and now we are trying to do our best with what's available.

"I can read our fans saying 'Listen, now will sign a £25million striker'. We cannot. Sometimes they are not available, but if they are available the price is not £20million, the wages are not the same, and the commission of the agents is huge. I think we will try to do our best in the conditions that we are (in).

"I am not happy. I am not happy with it but at the same time for me, it's a challenge and I will try to do my best.

"If I decide to stay, it's for the city, the fans, the stature of the club, to stay in England and in the Premier League. So I want to do my best but obviously every manager wants to improve.

"I'm happy with the players I have. The team spirit is quite good and hopefully we replicate that this season.

Asked to clarify the "if I decide to stay" comment:

"I decided to stay.....because for me it's a challenge......I'm not totally happy with what we did but I will try to do my best, working very hard with people at the club to try and improve what we have at the moment.

"It's very difficult (for me to leave). My Chinese is not good enough. No I try to do my best now. It has to be something you cannot control. At the moment I am fully committed to do the best that I can do now.

"Our idea has to be one game at a time. To avoid relegation is a priority and after that to go as high as we can."
photo: themag
NEWCASTLE UNITED - HELLAS VERONA 2 : 0
Newcastle United je poslednju proveru pred prvo kolo Premier League imao na svom St James' Park-u protiv povratnika u Italijansku Seriju A Hellas Verone.

Golovi Ayozea Pereza u četvrtom minutu i Christiana Atsua u dvanaestom minutu bili su dovoljni da Newcastle United bobedi Veronu rezultatom 2:0.

Već u prvom napadu, danas odlični desni bek novajlija Javier Manquillo je sa desnog boka povratnom loptom pronašao Ayozea Pereza, koji loptu šalje u mrežu gostiju za 1:0, minut 4.

Igrao se 12. minut meča kada je Jonjo Shelvey dugom loptom sa svoje polovine tražio Mitrovića, koji se okliznuo i lopta stiže do Christiana Atsua koji je zabija u rašlje protivničkog gola za 2:0.

Skoro 24.000 gledalaca je videlo živahan Newcastle United. Momci u crnim dresovima su delovali zaista odlično, stvorivši nekoliko odličnih prilika za gol.

Pored postignutih golova u prvom poluvremenu, šanse za gol imali su Aleksandar Mitrović tri puta, dok je Jojno Shelvey pokušao da lobuje protivničkog golmana sa svoje polovine.

Nastavak igre je bio veoma sličan prvomn delu igre. Newcastle United je konstatno napadao. Matt Ritchie je pogodio stativu iz slobodnog udarca, Rolando Aarons je glavom šutirao preko gola, dok je rezervni golman Verone Marco Silvestre sprečio Haydena, Aaronsa, Ritchiea i De Jonga da se upišu u strelce i tako spasao svoj tim ubedljivog poraza.

Drugi meč za redom Dwight Gayle nije igrao. Ovoga puta nije bio ni u protokolu. Rafa Benitez je posle meča rekao da je Gayle nešto malo povređen i da zbog toga nisu hteli da rizikuju sa njim.


Konačan rezultat: 2 : 0


NUFC: Elliot (Darlow 65), Manquillo (Gamez 65), Lejeune (Lascelles 65), Clark (Mbemba 65), Dummett (Aarons 65), Ritchie, Hayden (Murphy 65), Shelvey (Merino 65), Atsu, Perez (De Jong 72), Mitrovic (Diame 65).

HV: Nicolas (Silvestri 46), Bearzotti (Romulo 60), Kumbulla (Ferrari 60), Souprayen, Fares, Bessa, Buchel (Fossati 70), Zuculini (Valoti 60), Cerci (Luppi 70), Pazzini (Zaccagni 60), Verde.
Subs n/u: Coppola, Felicioli, Stefanec, Laner.

Sudija: Neil Swarbrick.

Gledalaca: 23,906 (oko 200 glasnih Veroninih navijača)
photo: dailymail