RASPORED UTAKMICA - SEZONA 2016/17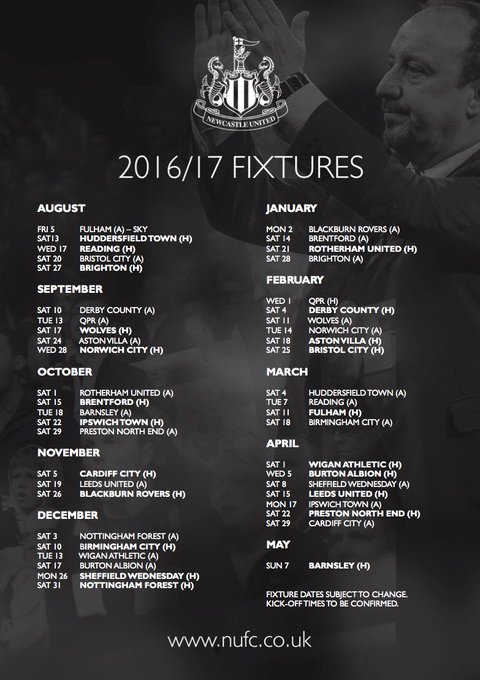 Fudbaler Newcastle United-a, Moussa Sissoko dao je intervju ze neki Francuski sajt, gde je napomenuu da želi da ode iz Newcastle United-a i da ne želi da igra u Championshipu.
Sissoko je za Newcastle United odigrao 133 utakmice i postigao 12 golova.
Au Revoir, Moussa...
photo: themag
Defanzivac Newcastle United-a Steven Taylor napustio je klub posle 13 sezona.
Prvi profesionalni ugovor Taylor je potpisao još davne 2002. godine, ali je za Svrake debitovao 2004. godine. U "vatru" ga je bacio tadašnji manager crno-belih Sir Bobby Robson.
photo: express

Rafael Benitez je večeras potpisao novi trogodišnji ugovor sa Newcastle United-om. Samim tim, iz ugovora je izbrisana klauzula u kojoj se raskida ugovor u slučaju ispadanja iz Premier League.

Newcastle United je nažalost ispao iz Premier League, ali je uprava kluba, pre svih dvojac Mike Ashley i Lee Charlney uvideo da je jedina prava opcija za klupu Newcastle United-a u Championshipu upravo Rafael Benitez. Njih dvojica su videli da iza Beniteza stoji i armija crno-belih navijača, koja je Špancu pružala podršku tokom svih 90 minuta utakmice, kada je demoliran Tottenham.

Kako je Benitez na konferenciji za mediji i rekao, upravo su navijači i odigrali ključnu ulogu u njegovoj odluci da ostane na klupi Newcastle United-a


Rafael Benitez:

"The first thing was for me is the fans, the stature of the Club and the future. So I have seen all of these things together.

"I said in my press conference that I came here because of that and I could see these things every day and especially the last game.

"There were a lot of positive things here from day one. Also my family is in England and I wanted to stay here, so everything together means that I'm really pleased and happy to be here.

"From day one, my relationship with Lee Charnley has been really good. I'm very pleased working with him.

"When I was asking for something they were trying to give me what I wanted and in this case when we were talking about the future they were quite positive.

"The main thing for me is that I have assurances that we will have a strong team - a winning team. If I am here again, I would say it's because I am convinced we can go up next season.

"I needed a new challenge and a new project. I can see the possibilities and the size of the club. It's massive....and I want to be part of that.

"I am convinced we can go up next season, we can stay up and win trophies.

"If I don't want to sell any players I don't need to sell any players.

"We have to start working - when I finish this press conference, I will start working.

"The fans have been a major factor in my decision."


Club statement:

Newcastle United are delighted to confirm that Rafa Benitez will remain as Newcastle United manager, after signing a new initial three-year contract.

On Wednesday afternoon the Spaniard put pen to paper on the deal which will keep him on Tyneside until at least the summer of 2019.

Benitez will have day-to-day responsibility for all football-related matters at the club.

The 56-year-old joined the Magpies in March, taking charge of the team for the final ten games of the 2015/16 season.

Despite the club's eventual relegation, he led United to three victories and a six-game unbeaten run, which culminated in a comprehensive 5-1 victory over Tottenham Hotspur on the final day of the season.

Benitez said: "I am extremely pleased to be staying at Newcastle United.

"The love I could feel from the fans was a big influence for me in my decision to stay, as was my relationship with Lee Charnley and all the staff.

"This is a huge club and I wanted to be part of the great future I can see for Newcastle United."

Managing director Lee Charnley added: "When we brought Rafa to the club in March, we knew he was a phenomenal manager and everything we have seen from him since has only served to reinforce that.

"We are therefore delighted to have secured his services for the next three years and I believe with Rafa as manager it gives us the best possible chance of returning to the Premier League at the first time of asking and delivering success for this football club beyond that.

"It is clear that Rafa has connected deeply with the club's supporters and we do not underestimate the role they have played in his decision to stay.

"He has captured the hearts and minds not just of the fans, but of everyone who has had the pleasure of working with him at the club thus far.

"As a world-class manager we had no doubt in our minds as to the importance of retaining him at Newcastle United."

A further announcement regarding Benitez's coaching staff will be made in due course.
photo: dailymail